Dumque suis victrix septembre de montibus orbe prospiciet domitum Martia Roma, legar.
As long as Rome, City of Mars, from its seven hills looks down upon a world conquered, people will read me.
Ovid (43 BC – AD 17), Tristien III 7, 51f. (translation by Utz Klöppelt)
The International Pynchon Week in Rome
Consider the relation of the writer and the state. Would Thomas Pynchon say the same about his texts as Ovid about his works? On the one hand it makes sense to say that there is a need, in today's democratic societies, to write and read against the grain of powerful arrogance of a (nation) state.
On the other hand, people might read more of Pynchon's if a decline and fall of the "American Empire" might appear at the horizon one day.
In any case, Pynchon's name will be mentioned a lot in Rome soon! Read more about the forthcoming International Pynchon Week in Rome here!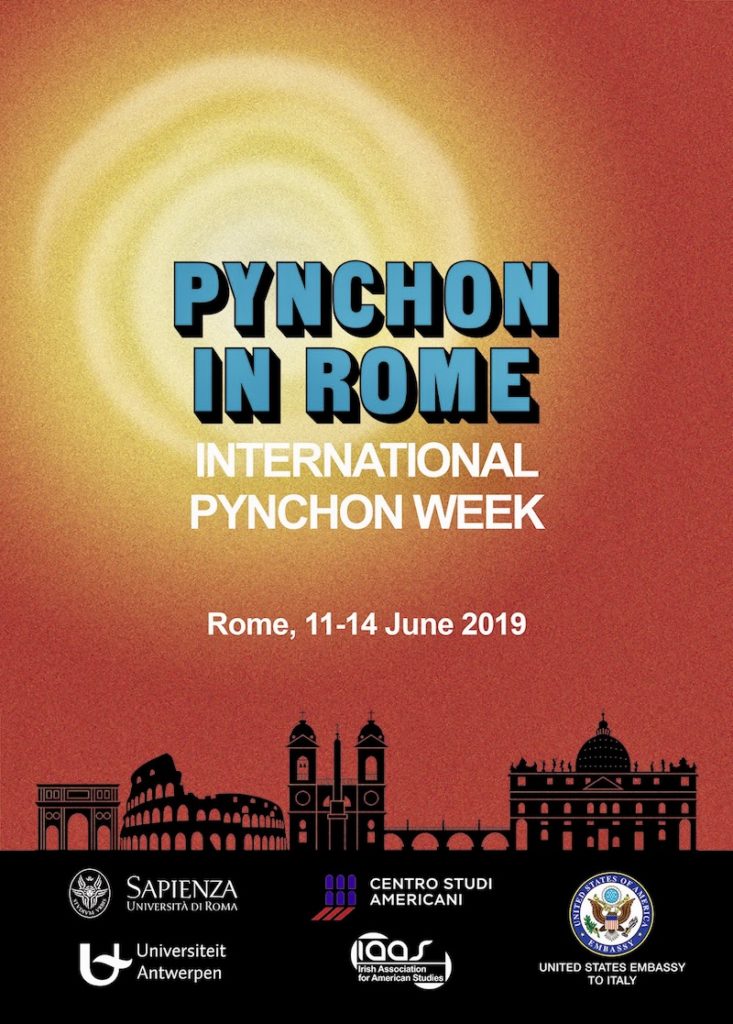 Will Thomas Pynchon appear at this year's International Pynchon Week (Rome) and listen to participants and speakers interpreting his works? Most probably, he won't. Chances are that if he did, we would not even recognize him.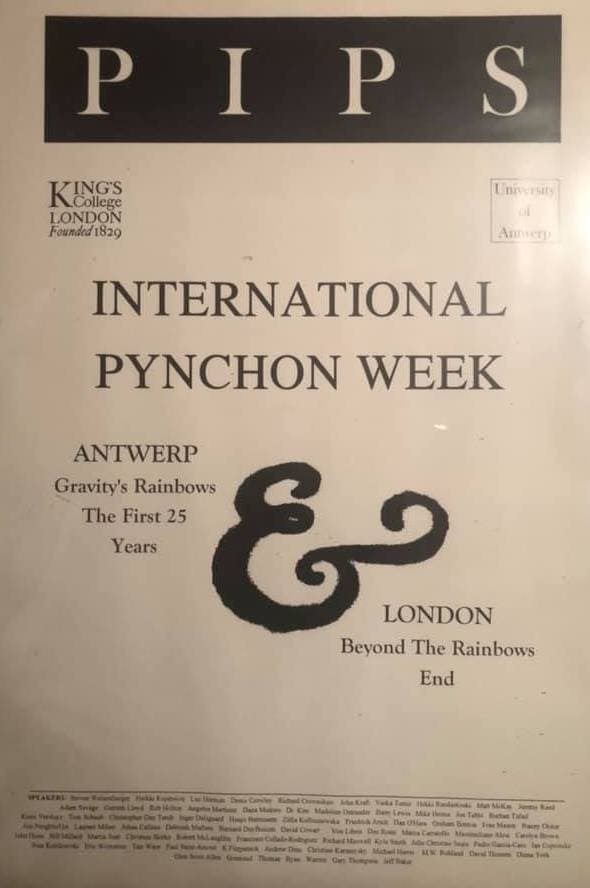 Nevertheless, conferences on Pynchon are always special. Up to this day regular attendees share some folk-lore on Pynchon conferences". While some suggest shooting a film on the history of the IPW and would be willing to play the role of Osbie Feel (from Gravity's Rainbow), others remember and hint at mysterious anecdotes of the Antwerp / London twin-conference (1998) – still waiting to be shared.
Let's see what the next International Pynchon Week 2019 adds to the memory of attendees and Pynchon scholars.
It will take place in Rome at Sapienza University from Tuesday, 11th to Friday, 14th June, 2019. It is organized by Umberto Rossi and Paolo Simonetti. Giorgio Mariani, who teaches American Literature at Sapienza University and who was President of the International American Studies Association (2011 to 2015), is responsible for the location.
What to expect from an IPW?
Those who have attended an International Pynchon Week know: it's always a special event! Imagine talks, lectures, discussions on your favorite or one of your favorite authors with people interested in the same topics!
Personal Memories … The IPW in Cologne (2002)
I attended my first International Pynchon Week in Cologne in June 2002 and it was definitely a treat!
The International Pynchon Week – site specific: from aachen to zwölfkinder – pynchon | germany focused on Gravity's Rainbow which I had already read in those days.
Apart from the lectures and discussions – I got a chance to listen to Friedrich Kittler's take on Gravity's Rainbow (see Uh-Young Kim (2002)), attendees were invited to join a tour through the collection of new musical instruments in Cologne University – with (new) music being one of the themes in Gravity's Rainbow. Additionally, the screening of Prüfstand 7 by Robert Bramkamp (2002; trailer here) was an amazing experience in the evening!
By the way, finding out about topics, speakers, and the schedule was easier than in pre-Internet times, but not as easy as today.
Interestingly, I found my email from those days asking for information on the schedule still on the Internet:
Seventeen minutes later, I knew more:
Today, the schedule of the International Pynchon Week in Rome is just a click away!
Why are International Pynchon Weeks special and attractive?
What can you expect from International Pynchon Weeks and the IPW in Rome this June? A paradise for Pynchonians!
In Rome, as usual, speakers offer a wide variety of topics. All in all, there are four days packed with promising and interesting talks on various themes in various Pynchon novels. The organizers of the week, Umberto Rossi and Paolo Simonetti, divided the days into two to four sections starting with "Pynchon and the Publishing Industry" on 11 June and finishing with "Adaptations" on Friday, 14 June.
What makes the IPWs so special and attractive? It's been good practice on International Pynchon Weeks to have Pynchon scholars with different academic and reading experiences present their interpretations and research findings. In his report on the IPW in Durham (2013), Martin Paul Eve summarizes why IPWs are special and why you might very likely appreciate them as well:
Firstly, there are no breakout panels at IPW events. Everybody presents in plenary form to everybody else for the same length of time. Ph. D. or MA students present for 20 minutes alongside the most revered scholars in the discipline. The event is extremely democratic and non-hierarchical on this front.

Secondly, the events have always been free to attend […], which makes a difference from the hundreds of pounds that are often asked by organizers (sometimes for reasons beyond their control).

Thirdly, and finally, there is a true culture of interest and comradeship. This is not a job scum event. People attend because they are interested in innovative thinking and startling new finds on Thomas Pynchon, not because they want to flatter the right people in the field.
Martin Paul Eve (2013)
Which topics and novels do the 2019 IPW speakers cover?
At the Rome IPW, speakers not only cover "extra-literary" topics like the influence of literary agent Candida Donadio on the growth of Pynchon's career, but, mostly, new and well-established approaches to Thomas Pynchon's novels. Paranoia and conspiracy are still themes to be explored further in the section "Paranoia, Invasions, Conspiracies: Pynchon's Narratives of Menace" (Thursday, 13 June), chaired by Ali Chetwynd whereas newer themes like the new media, the Internet, are predominantly open to interpretation in the sections on Bleeding Edge (two sections on that novel alone!).
Is your favorite Pynchon novel covered in one of the sections? It might very well be the case. On the one hand, there are several lectures on themes covering many of Pynchon's texts, on the other hand you'll find lectures covering different novels in particular – with Bleedings Edge (2013) being the star at this year's Pynchon convention.
The list below orders contributions during the IPW by number of appearances related to specific novels:
Bleeding Edge (2013)
Eric Sandberg: "Inherent Vice and Bleeding Edge: History, Memory, Nostalgia"
Sergej Macura. "Real News, Fake News: Mimetic Language Games in Bleeding Edge"
Jaime Harrison. "'It Could Never Happen Today. Nobody's in Control of the Internet': Bleeding Edge's New Media Internets"
Tholen Opitz. "Pynchon and Martial Arts"
Mattia Ravasi. "'Out of the Ashes and Oxidation of this Postmagical Winter': Generic Contagion in Thomas Pynchon's Bleeding Edge"
Gravity's Rainbow (1973)
Burak Sezer: "From Rainbows to Stonebows: Ossifying Mathematics in Gravity's Rainbow"
Nina Muzdeka. "Killing Dodoes, Sending Doodlebugs: Reading Gravity's Rainbow as an Invasion Narrative with a Postmodernist Twist"
Richard Moss. "Blicero Through the Lens of Early Nazi Occultism"
Angelo Grossi. "'When They Went to the Movies He Would Fall Asleep': Film Spectatorship and Cinematic Apparatus in Gravity's Rainbow"
V. (1963)
Umberto Rossi. "V. vs. V for Vendetta: From Pynchon to Moore and Back"
"The Secret Integration" (1964)
Terry Reilly: "Pynchon's 'The Secret Integration' and the Saturday Evening Post"
Mason & Dixon (1997)
David Coughlan. "Mason & Dixon and Pynchon and Miller & Pynchon and Maurer"
Against the Day (2006)
Ali Dehdarirad. "Alternative Worlds, Subjunctive Urbanisms: Postnational Visions in Against the Day"
Inherent Vice (2009)
Eric Sandberg: "Inherent Vice and Bleeding Edge: History, Memory, Nostalgia"
The IPW Chronology
If it is true that the first International Pynchon Week was in Warwick in 1994, this year marks the 25th anniversary of the International Pynchon Week!
With the help of Sascha Pöhlmann, Jeff Severs, Luc Herman, Paolo Simonetti, Michael Ryckx, Umberto Rossi, Richard Moss, Tim Ware, Heikki Raudaskoski (all on W.A.S.T.E. – a facebook Pynchon group (link to facebook)) – I was able to compile a list of conferences on Pynchon. Not all of them were called "International Pynchon Week" and there were definitely more Pynchon conventions than I have listed so far. And there is definitely more information on the IPWs or other Pynchon conferences.
If you have anything to add to the lists (other IPWs (in 2000?), conference title, names of organizers, and possibly publications of contributions), please do let me know – simply by replying to this blog entry at the end of the blog post or by shooting me an email via the Contact Form.
International Pynchon Weeks
Year
Location | Date | Title
1994
Warwick, England (November): Schizophrenia and Social Control
1998
Antwerp, Belgium: Gravity's Rainbow: The First 25 Years
– organized by Luc Herman
– proceedings to the conference in Pynchon Notes, nos. 42-43
London, England: Beyond the Rainbow's End
– organized by Eric Weinstein
– articles in Abbas 2003
2002
Cologne, Germany (14-16 June): site-specific: from aachen to
zwölfkinder – pynchon | germany
– organized by Hanjo Berressem
– articles in a special edition of Pynchon Notes
2004
Valletta, Malta
– organized by Vaska Tumir
2006
Granada, Spain
– organized by Celia Wallhead
– proceedings to the conference in Pynchon Notes
2008
Munich, Germany: Against the Grain: Reading Pynchon's Counternarratives
– organized by Sascha Pöhlmann
– proceedings published in Pöhlmann 2010
– newspaper report by Die Welt (German newspaper)
– report by Bruno Arich-Gerz (on electronic book review)
2010
Lublin, Poland
– organized by Zofia Kolbuszewska
– proceedings published in Kolbuszewska 2012
2013
Durham, England
– organized by Sam Thomas with the help of Martin Paul Eve
– report by Martin Paul Eve on the conference: Eve 2013
2015
Athens, Greece
– organized by Georgios Maragos
2017
La Rochelle, France
– organized by Bénédicte Chorier-Fryd and Gilles Chamerois
– official website
2019
Rome, Italy (11-14 June): Pynchon in Rome
– organized by Umberto Rossi, Paolo Simonetti, and Giorgio Mariani
– official website
2021
Vancouver, Canada
– did not take place due to the COVID-19 pandemic
2022
Vancouver, Canada (6-10 June)
– organized by Jeff Severs
– official website
Other Pynchon Conferences
1970s
Since second half of the 1970s:
Half-day panels on Pynchon by the Modern Language Association
1998
Rome, Italy (January): Pynchin' Thomas Pynchon
2008
Tours, France
– organized by Gilles Chamerois (see Chamerois 2008)
– on the occasion of the publication of Against the Day
Further Reading and Watching
Abbas, Niran B. (ed.). Thomas Pynchon: Reading from the Margins, Madison, N. J.: Fairleigh Dickinson University Press; 2003.
Berressem, H., (2008) "Site-Specific: Pynchon | Germany – A Multiplicity of Critical Eigenvalues", Pynchon Notes , 11-25. doi: https://doi.org/10.16995/pn.22 (Accessed on 28 June, 2023).
Chamerois, Gilles (ed.). Reading Thomas Pynchon's latest novel Against the Day, GRAAT On-Line, No. 3 (2008), URL: http://www.graat.fr/backissuespynchon.htm?fbclid=IwAR3IOMW75-4vIHH2Lh5jr9QkbNpBxjulHhJGeBJ-_Bxsed3vYhJ2EJVY_iw (Accessed on 9 May, 2019).
Bramkamp, Robert. Prüfstand 7, film, 35mm, color; 112 minutes, Germany 2002; URL: https://vimeo.com/ondemand/89205 (Accessed on 20 May, 2019), see also director Robert Bramkamp's website at URL: http://www.bramkamp.info/filme/pruefstand-7/ (Accessed on 20 May, 2019).
Eve, Martin Paul (2013). "On International Pynchon Week", URL: https://eve.gd/2013/08/11/on-international-pynchon-week/ and here: https://readdurhamenglish.wordpress.com/2013/08/14/on-international-pynchon-week-2013/ (Accessed on 28 June, 2023).
Getter, Linda. "Marc Getter – Designer and Artist", Pynchon Wiki: Gravity's Rainbow, URL: https://gravitys-rainbow.pynchonwiki.com/wiki/index.php?title=Marc_Getter_-_Designer_and_Artist (Accessed on 24 May, 2019).
Kolbuszewska, Zofia (2012). Thomas Pynchon and the (De)vices of Global (Post)modernity. Wydawnictwo KUL.
Pöhlmann, Sascha (ed.; 2010). Against the Grain: Reading Pynchon's Counternarratives. Rodopi, 2010.
Wallhead, C. & Collado-Rodríguez, F., (2011) "Introduction (Granada Pynchon Conference Volume)", Pynchon Notes , 9-20. doi: https://doi.org/10.16995/pn.1 (Accessed on 28 June, 2023).
Wulff, Matthias (2008). "Freaks erforschen ein Mysterium", Die Welt, 15.06.2008, URL: https://www.welt.de/wams_print/article2105462/Freaks-erforschen-ein-Mysterium.html (Accessed on 28 June, 2008).
Young-Kim, Uh. "Der Nerd im Wissenschaftler. Drei Diskurse pro Minute. Am Wochenende trafen sich Wissenschaftler verschiedener Disziplinen in Köln, um über Thomas Pynchon zu reden. Mythenbildung fand während der Kaffeepausen statt", taz Archiv (2002), URL: http://www.taz.de/!1104134/ (Accessed on 23 May, 2019).
Credits
Featured image: Colosseum in Rome © Utz Klöppelt, Rome 2018.
Poster for the International Pynchon Week in Rome (2019) © Enrico Benella, based on an idea by Paolo Simonetti, 2019 and Marc Getter's cover design for the first US edition of Gravity's Rainbow, April 1973.
Poster of the twin International Pynchon Week in Antwerp and London (1998) © Fotowerken Frans Claes, using the ampersand by Raquel Jaramillo from the first US hardcover edition of Mason & Dixon, 1997; photograph by Tim Ware, 1998.
Email by Utz Klöppelt on "waste.org", June 13, 2002, 07:16:54, URL: https://waste.org/pipermail/pynchon-l/2002-June.txt © Screenshot (excerpt) by Utz Klöppelt | Reading Pynchon, 10 May, 2019.
Answer to email on IPW, June 13, 2002, 07:33:01, URL: https://waste.org/pipermail/pynchon-l/2002-June.txt © Screenshot (excerpt) by Utz Klöppelt | Reading Pynchon, 10 May, 2019.